Saturday, December 12, 2020 8:00 pm to January 1st, 2021 8:00 pm
Good Tidings Classic! A Good Noise Christmas Video Performance
FEATURING
Good Noise Vancouver Gospel (Virtual) Choir
Good Noise Gospel Band
Guest Artist: Crystal Hicks
Choir soloists: Timothy Fuller, Syllona Kanu
"Dear Gail and all the INCREDIBLE members of Good Noise,  I just wanted to write and extend my hugest congratulations for your recent virtual concert.  It was OUTSTANDING. The sound! The editing! The camera work! The singing! The soloists! The piano playing! All across the board. Top notch!"  J.R. – Video Concert Attendee
Video performance will be available to ticket-holders beginning Saturday, December 12th, 2020 at 8 p.m. and throughout the Christmas season.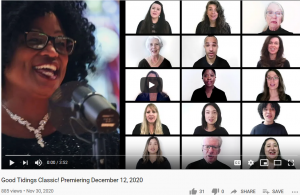 What's New This Year
For the past 16 years, thousands of concert goers have made a Good Noise Christmas concert their annual holiday tradition. The singing, the music, the dancing in the aisles – all have been a part of these "must-see" concerts, with the choir and audience members collectively sharing in a joyful and compelling experience that captured the best of the spirit of the season.
The COVID-19 pandemic may have brought in-person rehearsals and concerts to a halt, but Artistic & Executive Director, Gail Suderman, has created a unique and special project for the Christmas season that will bring to life the Christmas gospel and popular songs that are so beloved by our audiences.
This Christmas, celebrate the season by joining with the choir from the comfort of your own home as you watch a uniquely designed concert video that brings together the musicians and soloists along with the music and voices of Good Noise through creative technology.  You will be brought back into the beauty of Christ Church Cathedral where the Good Noise Gospel Band, our guest artist Crystal Hicks and two of the choir's soloists, Timothy Fuller and Syllona Kanu, were filmed and recorded live.  The choir has done what so many choirs have while gathering together is restricted – created a virtual choir.  Through the brilliance of creative editing, the live filming will be woven together with the virtual choir, and this video concert experience will keep us all connected as we continue to share the best of the spirit of the season.
When you purchase your tickets for "Good Tidings Classic!", please know that you will be not only helping to keep the choir alive during this very challenging time, but providing an opportunity for us to continue to creatively share our voices and music with you, our beloved audiences. 
Guest Artist: Crystal Hicks
Crystal's singing career began in her home country of the Bahamas where, as a teenager, she won the "Best Female Recording Artist" award.  From that early start, Crystal established herself as a powerhouse singer with a focus on gospel music, Soul and R&B.  Known for her dynamic stage presence, Hicks has performed with the Toronto Mass Gospel Choir, the Canadian Tenors, the Vancouver Symphony and has been a favourite guest of Good Noise over the years.  Crystal has performed throughout Canada, the United States, the Caribbean and the Philippines and is currently a member of the 8-piece band Horizon, performing a wide range of music from gospel to R&B, Jazz and Blues.
Special Thanks to the Hamber Foundation for supporting this video project.